Spirulina originated in the embryonic stage 3.5 billion years ago and has the most abundant and comprehensive nutrients in nature. It is acclaimed by the FAO, UNESCO, and the WHO as the "future food for humanity" and the "best health product for humanity in the 21st century". The spirulina extract, also called blue spirulina, is a unique active substance in it.
In the 1950s, blue spirulina was first discovered by a scientist named R.C. Fuller, and he observed its structure and function were different from other proteins but similar to the structure of heme.
In 1980, Dainippon Ink and Chemicals, a Japanese company, first extracted blue spirulina and it subsequently began to be widely applied in industries such as reagents and pharmaceuticals.
In 2013, spirulina extract was approved as an edible pigment by the US FDA, and later by the European Union, making it one of the earliest available natural blue pigments.
BINMEI's Contributions and Product Safety
When the related products of spirulina extract are relatively mature abroad, the domestic market is almost blank. In 2010, BINMEI Biotechnology Company in Taizhou, Zhejiang began researching industrial extracts of blue spirulina.
In 2013, BINMEI officially built the first industrial production line for extracting blue spirulina, breaking the monopoly of foreign enterprises in this field that had lasted for more than 30 years.
In 2014, BINMEI first applied for a patent and achieved industrial production of spirulina extract, filling the gap in this field in China.
In 2017, BINMEI invested 40 million yuan to establish an intelligent spirulina extract production line with an annual output of 200 tons, which is 10 times the scale of the company's first production line and also the largest production line in China.
At the same time, in order to produce higher quality and safer spirulina extract, BINMEI introduced the HACCP (Hazard Analysis and Critical Control Point), which is an internationally recognized prevention system to ensure that food is free from biological, chemical, and physical hazards. By using this system, BINMEI ensures product safety by monitoring and controlling every step of the production process.
Moreover, BINMEI has also obtained Halal and Kosher certifications. Halal products have a unique system based on a healthy diet, careful selection, strict hygiene, and an emphasis on nutrition and health. Non-Islamic people believe that Halal-certified products are hygienic, safe, pure, and healthy, so it can be said that the BINMEI spirulina extract with Halal certification also has these characteristics.
In 2020, BINMEI introduced the FSSC22000, entirely replacing the HACCP. This is a global and auditable food safety management system that combines GMP, HACCP, and other management system requirements, which also reflects BINMEI having a more comprehensive and strict production management system.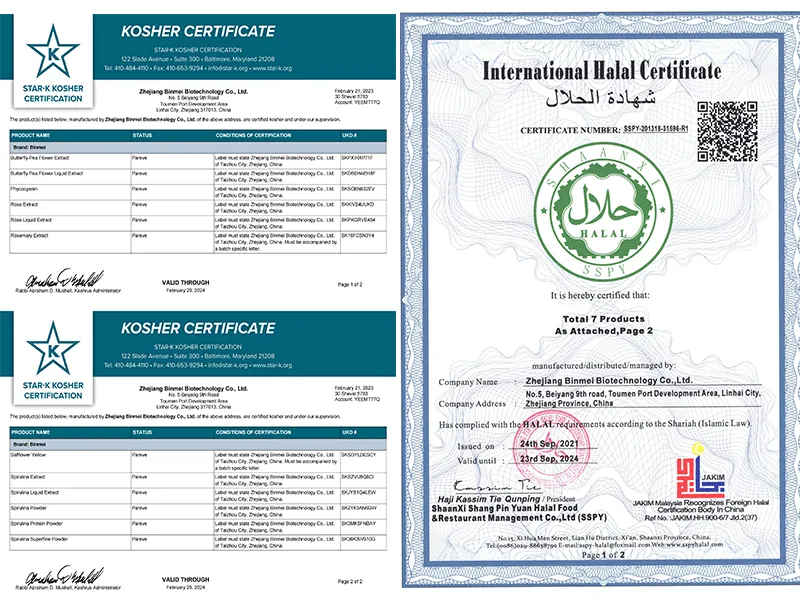 Spirulina Extract: A Natural Blue Pigment
It is worth mentioning that the spirulina extract produced by BINMEI is the natural blue raw material among coloring foods. Coloring foods refer to foods with coloring properties, usually derived from naturally colored vegetables and fruits, such as carrots, pumpkins, and blueberries, which use physical processes to extract pigments. Due to the increasing emphasis on food safety and personal health, people are becoming increasingly inclined towards natural pigments. And spirulina extract, as the only natural edible blue pigment exempt from US FDA, will undoubtedly become a favorite of consumers.
The Functions and Applications of Spirulina Extract
Spirulina extract contains a variety of amino acids and has a wide range of applications, mainly in food, cosmetics, and health products.
In the field of food
The antioxidant effect of spirulina extract is significant, which can inhibit lipid oxidation reactions in food, maintain the color, taste, and nutrients of food, and so that improve the quality of food. It is also a 100% water-soluble natural blue pigment, which can be used for coloring beverages, confectionaries, jellies, and other foods.
In the field of cosmetics
Spirulina extract is a collagen-like protein that has functions such as moisturizing, anti-aging, and wrinkle-resistant. It can also brighten skin, effectively resist oxidation, and protect the skin from environmental stimuli such as ultraviolet radiation.
In the field of healthcare products
Spirulina extract has functions such as anticancer, promoting blood cell regeneration, maintaining the ovaries, and boosting the synthesis of elastin in the human body. It can also be used as a dietary supplement, rehabilitation medicine, and nutrient products for cancer and leukemia patients.
Conclusion
In short, blue spirulina is a dark blue powder extracted from spirulina. It is not only a nutritious protein, but also an excellent natural edible pigment, and is also a good healthcare product. And BINMEI which is a manufacturer dedicated to researching, exploring, and producing high-quality spirulina extract, has made unprecedented contributions in this field in China and is constantly improving and expanding its production system, striving to provide consumers with safer and healthier products.