Spirulina has existed on Earth for 3.5 billion years and is among the oldest and primitive life forms on earth. In 1974, the UN declared Spirulina the best food of the future. The Aztecs already knew that spirulina should be an integral part of their diet. To this day, spirulina is still on the menu for NASA astronauts[1].
Unique spirulina, only grown in China
The only spirulina that grows far from the city and grows on the plateau! The only spirulina containing DHA!
In 1980, Chinese scientists discovered in Inner Mongolia that natural spirulina contains DHA has a protein content of up to 65%-72% and is almost free of heavy metals.
High-quality spirulina comes from the best environment and rich experience. Our spirulina farms are far from cities and industrial areas, so we never use pesticides, herbicides, chemicals, or irradiation.
Good products come from good raw materials. Through comprehensive methods such as technical screening, environmental adaptation, domestication, genetic stability assessment, and nutrient analysis, BINMEI has cultivated high-quality spirulina strains.
We use a high-quality water source of 500 meters underground, so the content of heavy metals in spirulina is low(Pb<0.2, As<0.3, Hg and Cd almost 0).
The quality of spirulina depends largely on the light. The annual illumination of 3076 hours in the Inner Mongolia Plateau, lays a good foundation for spirulina's photosynthesis.
We have a state-of-the-art algae seed lab and testing lab. We perform dozens of quality control tests on spirulina seeds, live spirulina in cultivation, and the final product, which we test and verify almost daily.
| | |
| --- | --- |
| Appearance | Green powder |
| Particle Size | 100% Pass 80 mesh |
Our spirulina farms are grown in the highlands, where no pollution can enter our skies. Our spirulina farm is 300km from the nearest city, where nature has insulated us from all pollution and heavy metals.
We know very well that the safety of spirulina is the first priority for BINMEI. The quality of our spirulina is not only attributed to our remote farm location, clean air and water, and high-quality nutrients, but also our comprehensive quality control system. Our spirulina meets US FDA and EU standards and has been approved by 800 partners in over 60 countries and territories worldwide.
Since the discovery of Spirulina Inner Mongolia in 1980, we have never used pesticides, herbicides, or chemicals in Inner Mongolia, not only to ensure the quality and safety of our Spirulina but also to protect our Mother Earth. We believe that naturalness and safety are very important to our customers. Our spirulina is manufactured, processed, packaged, and stored in accordance with food safety standards and we ensure that our spirulina is safe to eat.
Sustainable and Environmentally Friendly
The Inner Mongolia plateau is rich in baking soda, which is far more than enough to meet the nutrient requirements of Spirulina. Meanwhile, the abundant deep water 500 meters underground is rich in minerals. We reduce the environmental impact of farming and packaging through our fertilizer recycling system and environmentally sustainable packaging. We believe that spirulina can bring not only safety to the people but also health and well-being to the planet.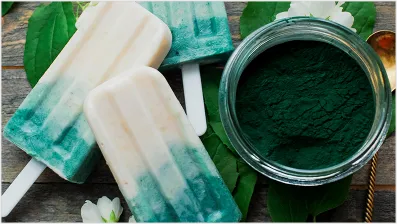 Spirulina is recognized as a dietary supplement and superfood. When it comes to antioxidants and immune boosting, spirulina is almost unbeatable. In Europe, the United States, and Japan, Spirulina in pressed tablets and capsules is already recognized as a good dietary supplement that is suitable for any population.
As a functional spirulina, Spirulina is not only a clean label ingredient member, but also a very powerful immunomodulator and antioxidant. Spirulina is also rich in nutrients including a range of vitamins and minerals needed to support a healthy immune system, such as vitamins E, C and B6, among others. Spirulina also promotes the production of white blood cells and antibodies, which are anti-foes that help the body fight viruses and bacteria in the body.
There are many ways to obtain a natural green color, such as leaf green, for example by using safflower yellow in combination with Spirulina extract. But Spirulina is also not a bad choice.
Spirulina is rich in a range of vitamins and minerals essential for maintaining a healthy immune system, like vitamins E, C, and B6.
Rich and Extremely High in Nutrients
Spirulina is almost the most nutritious food on earth, which is one of the reasons it was chosen by NASA as food for astronauts[1].
It contains high-quality protein and provides all the essential amino acids needed by the body. It is also rich in microorganisms and minerals, and it contains high levels of magnesium, potassium, and manganese, as well as almost all the other nutrients the body needs.[2]
Note: Spirulina does not contain vitamin B12.[3,4]
Powerful Antioxidant and Anti-inflammatory Properties
We all know that oxidation is the main cause of cell and body aging, and can also lead to other diseases such as chronic inflammation and cancer.[5]
Spirulina is an excellent source of antioxidants and its main component is phycocyanin, who fights free radicals and inhibits inflammation. The antioxidant power of spirulina is much stronger than that of vitamin C.[6,7,8]
Studies have shown that spirulina can reduce the incidence of cancer and the size of tumors. The effect of spirulina on oral cancer has been well-studied.
In a human trial, 45% of oral cancers disappeared in people who took 1g of spirulina per day for a year. This compares to only 7& in the control group. When these people stopped taking spirulina, almost half of them developed cancerous lesions again the following year.[21,22]
Other Benefits of Spirulina.
Spirulina can Lower "Bad" LDL and Triglyceride Levels[9,10,11,12]
Protects "Bad" LDL Cholesterol From Oxidation[13,14,15,16,17]
Lowers blood pressure[10,11]
Improves allergic rhinitis[24,25]
It may be effective for anemia[26,27]
Restores muscle fatigue and damage caused by exercise, and improves muscle strength and endurance[28,29]
Controls blood sugar[30,31,32,33]
Protects against dryness[26,27]
Protects eye and oral health
Heart health
Anti-allergy, including those caused by pollen, animal hair, and dust.
Spirulina has been alive on the earth for 3.5 billion years (the earth was formed about 4.54 billion years ago). Spirulina is recognized as the best food and dietary supplement in the world, so it is been used as one of the main foods for NASA astronauts. Spirulina has rich high-quality protein merits and other multiple essential nutrients (including microorganisms and minerals). Spirulina is not only be used in health food, but also a good dietary supplement and nutritional supplement been added to other foods.
Spirulina can be used as a natural blue food colorant and functional ingredients . It can also be used in cosmetics and dietary nutritional supplement.
We are mainly offering large packaging for business use, as well as small packaging for retailing, such as 100g small packs. Meantime, we also can customize the packaging and specifications according to customer needs.
1. Characterization Of Spirulina Biomass For Celss Diet Potential
2. USDA Food Composition Databases. Governmental authority.
3. Pseudovitamin B(12) is the predominant cobamide of an algal health food, spirulina tablets
4. The evidence that pseudovitamin B(12) is biologically active in mammals is still lacking - a comment on Molina et al.'s (2009) experimental design
5. Oxidative stress, inflammation, and cancer: How are they linked?
6. Antiinflammatory and antihyperalgesic activity of C-phycocyanin
7. C-phycocyanin confers protection against oxalate-mediated oxidative stress and mitochondrial dysfunctions in MDCK cells
8. C-phycocyanin: a biliprotein with antioxidant, anti-inflammatory and neuroprotective effects
9. Role of Spirulina in the Control of Glycemia and Lipidemia in Type 2 Diabetes Mellitus
10. The hypolipidaemic effects of Spirulina (Arthrospira platensis) supplementation in a Cretan population: a prospective study
11. Antihyperlipemic and antihypertensive effects of Spirulina maxima in an open sample of mexican population: a preliminary report
12. A randomized double-blind, placebo-controlled study to establish the effects of spirulina in elderly Koreans
13. Lipid peroxidation and tissue damage
14. Oxidative stress and its significant roles in neurodegenerative diseases and cancer
15. Circulating oxidized LDL: a biomarker and a pathogenic factor
16. Effect of Spirulina Intervention on Oxidative Stress, Antioxidant Status, and Lipid Profile in Chronic Obstructive Pulmonary Disease Patients
17. Health Benefits of Blue-Green Algae: Prevention of Cardiovascular Disease and Nonalcoholic Fatty Liver Disease
18. A randomized study to establish the effects of spirulina in type 2 diabetes mellitus patients
19. Chemoprevention of rat liver toxicity and carcinogenesis by Spirulina
20. Enhancement of antitumor natural killer cell activation by orally administered Spirulina extract in mice
21. Evaluation of chemoprevention of oral cancer with Spirulina fusiformis
22. Spirulina and Pentoxyfilline – A Novel Approach for Treatment of Oral Submucous Fibrosis
23. Effects of dietary Spirulina on vascular reactivity
24. Complementary therapies in allergic rhinitis
25. The effects of spirulina on allergic rhinitis
26. Nutritional anemias and the elderly
27. The effects of Spirulina on anemia and immune function in senior citizens
28. Ergogenic and antioxidant effects of spirulina supplementation in humans
29. Preventive effects of Spirulina platensis on skeletal muscle damage under exercise-induced oxidative stress
30. Preventive effect of phycocyanin from Spirulina platensis on alloxan-injured mice
31. Antidiabetic potential of phycocyanin: effects on KKAy mice
32. Alleviation of metabolic abnormalities induced by excessive fructose administration in Wistar rats by Spirulina maxima
Association of glycaemia with macrovascular and microvascular complications of type 2 diabetes (UKPDS 35): prospective observational study